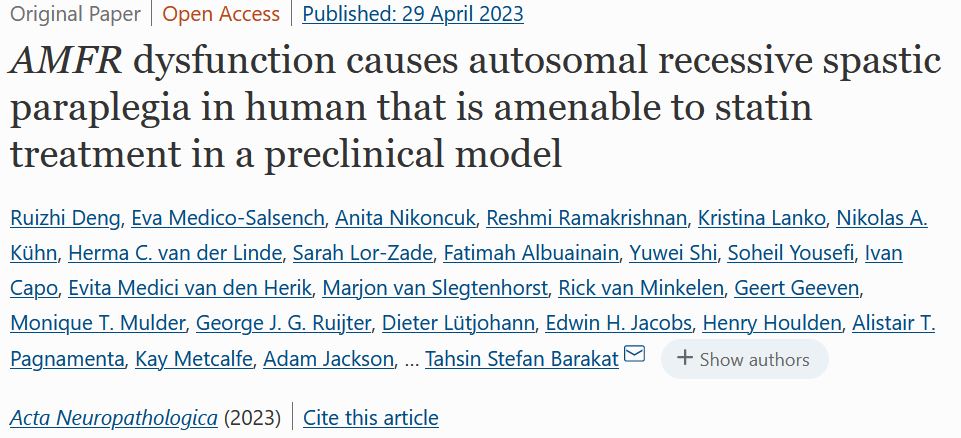 RDMM-Europe project published!
Stefan Barakat and Tjakko van Ham at Erasmus University Medical Center in Rotterdam have received a Seeding Grant via the Solve-RD Rare Disease Models & Mechanisms Network (RDMM-Europe) program in May 2022. The funding supported their work to confirm pathogenicity of AMFR dysfunction causing autosomal recessive spastic paraplegia (HSP) by using zebrafish models. AMFR was proposed for functional validation within the RDMM programme by Solve-RD partners Reza Maroofian and Henry Houlden at the UCL Queen Square Institute of Neurology. They have initially identified a homozygous frameshift mutation of AMFR within a shared RoH region in two affected siblings suffering from Hereditary Spastic Paraplegia (HSP). By international collaborations and data sharing similar biallelic loss of function mutations of the same gene were found in a total of 20 affected individuals from 8 consanguineous families.
The collaborative work was now accepted for publication in Acta Neuropathologica.
Ruizhi Deng, Eva Medico-Salsench, Anita Nikoncuk et al. AMFR dysfunction causes autosomal recessive spastic paraplegia in human that is amenable to statin treatment in a preclinical model. Acta Neuropathol (2023). https://doi.org/10.1007/s00401-023-02579-9