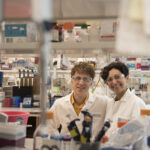 Racing against time: Seeking the cure for a deadly disease
Ten years ago, Harvard Law School student Sonia Vallabh's world was turned upside down when her mother's health rapidly deteriorated after initial complaints of trouble with her vision. Descending quickly into dementia, pneumonia, and disability, it was not until after the death of Sonia's mother that a diagnosis for prion disease was confirmed. But the nightmare did not stop there — Sonia soon found out that she, too, had inherited the deadly disease.
We are very grateful that Sonia Vallabh and Eric Minikel accepted the invitation to give the keynote lecture at our Solve-RD Annual Meeting 2022! It was impressive to hear their story and to feel their determination to find a treatment for Sonia's disease.
Prior to the meeting we have invited Sonia to share her thoughts on the future of rare disease research, as well as her own race against time to come up with a life-saving treatment. Read the full interview here.
We would like to inform you  that Sonia and Eric helped to launch a prion disease registry at PrionRegistry.org. This is a tool to help recruit for clinical research and also someday, clinical trials. In the meantime, numbers from the registry help to convince partners across sectors that even though this is a rare disease, they are well organised and capable of running rigorous clinical trials. So, by signing up, patients and families help to convince the world that this disease is worth working on!