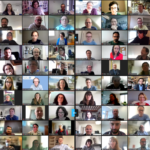 Solve-RD Annual Meeting 2022
The Solve-RD Annual Meeting took place from Monday to Tuesday, 25-26 April 2022. Although virtually, it was a success!
It was great to see the results coming out of the project and to listen to all the fantastic presentations – especially from so many junior scientists. Congratulations to Robin Wijngaard (Nijmegen) and Vicente Yépez (Munich) for the best full presentation as well as Elke de Boer (Nijmegen) for the best flash talk!