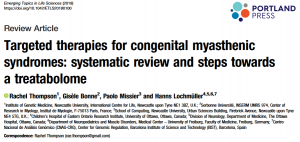 New publication: Targeted therapies for congenital myasthenic syndromes: systematic review and steps towards a treatabolome
New publication by Rachel Thompson et al on the treatments available for the congenital myasthenic syndromes (CMS) and the development of a "treatabolome" to improve the accessibility of information on treatable rare diseases is now available online.
In this publication Thompson et al look into ways we can improve access to the important information that a particular disease has a treatment available. Most rare genetic diseases do not currently have curative gene-based therapies available, but in some cases a particular drug or intervention can have a significant effect on disease course and functional ability. Ideally, this information would be immediately accessible to the clinician treating the patient at the time of diagnosis, but too often this is not the case and the details can only be discovered after more extensive literature study or expert referral, meaning that for many patients there is a delay before they are put on the optimal therapy. The question is further complicated by the fact that some treatments are only effective for certain genetic causes, even when the overall phenotypic presentation is very similar.
In Solve-RD, disease experts from different European Reference Networks will perform similar reviews of the evidence and bioinformaticians from the Centro Nacional de Análisis Genómico (CNAG-CRG) in Barcelona will make them accessible in database form for incorporation into genomic analysis platforms such as RD-Connect.
More infos from the Lochmüller lab can be found here.